Parental Internet Control
KillNet Switch
The

Kill

Net Switch stops hackers and helps parents control and monitor the kids internet activities
While having a family of your own is responsibility enough, monitoring their internet activity is a responsibility too. Internet usage can be a treacherous game for young children and moms and dads need to ensure that their children are surfing the internet safely.
In saying that, moms and dads might want to set strict schedules for internet usage for their children, that's where KillNet Switch comes in. Set a schedule for your children:
Accessing the internet for just about anything is a privilege and sometimes a saving grace. The internet has its advantages as well as disadvantages for allowing anyone accesses to it. While we are given access to Google, Bing, Internet Explorer and many more, it doesn't include the protection against malicious cyber attacks from criminals.

Our loved ones are exposed to so many threats daily, the internet might just be the biggest one. The internet can destroy many lives, in many ways, but for now, do the right thing and protect yours with KillNet Switch.
Kill

Net Switch has four main f

unctions.
Scan –

Kil

lNet can scan your software for any vulnerabilities and provide recommendations to fix them.
Time –

Kill

Net allows you to control internet access, especially if you have children who access the internet. You will be able to lock the internet usage after certain hours or even before your children have finished their chores.
Online –

Kill

Net tells you when you are online. You can also turn the internet offline according to your needs.
Kill –

Kill

Net provides an internet kill switch that stops the connection of the internet to your devices if you are at risk of a cyber-attack.


Over and above these incredible features that Killnet offers you, KillNet also sends an alert to all your devices if you have been compromised in any way. It remains our responsibility to prevent hackers from retrieving information from your home. However, KillNet recommends turning off your internet while you are leaving your home or sleeping to avoid hackers and ransomware attacks.
How to control internet access at home
KillNet Switch has been derived from the expertise of technical engineers who have several years of cyber security experience behind them. The KillNet Switch product was constructed to operate on both LAN and WAN internet providers, broadening our scope of protection. Conventional cyber security protection offers you software packages that, if you didn't know, can just as easily hack your personal information through their firewalls. We predict that KillNet Switch will soon have the capability to protect enormous organizations and conglomerates. 
Should You Use Parental Internet Control?
If you are a parent or a guardian and have kids at home, then yes, you should absolutely use parental control. Without it, your child could be at a potential cybersecurity risk.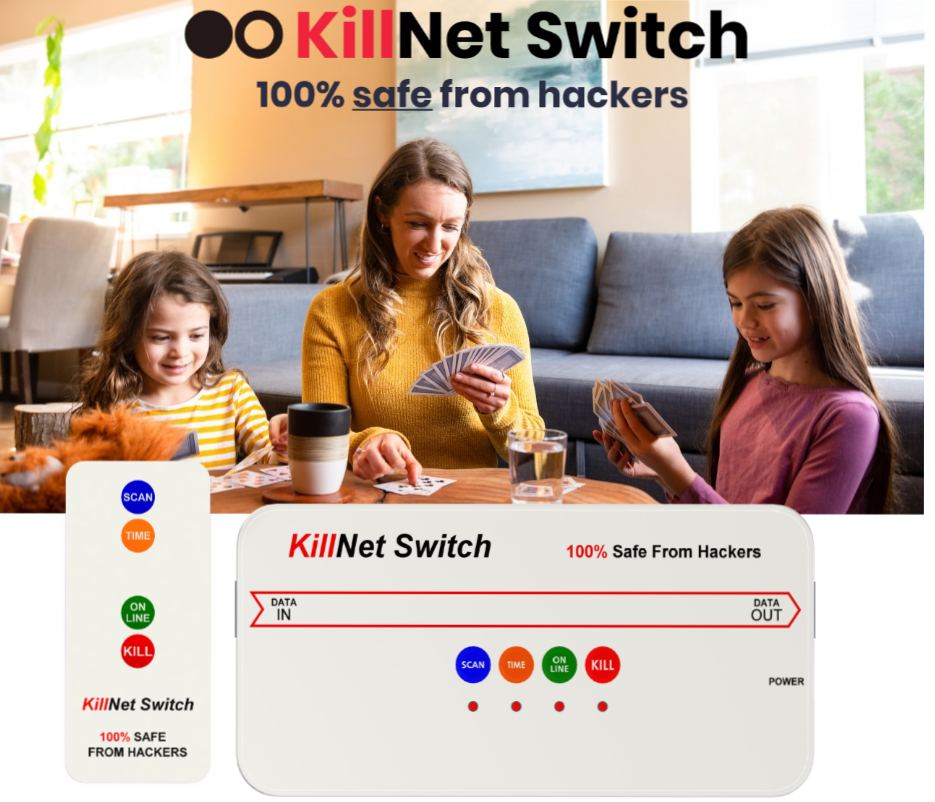 Encourage Healthy Activity
Limiting internet access will encourage healthy browsing and internet activities.
Limit Screen Time
Limited screen time allows them to focus more on their studies and less time on their mobile devices.
Monitor and Filter Inappropriate Content
Essentially you will be in control and can filter out any inappropriate content from ever reaching their devices.
• No WIFI – Internet at meal times!
• No WIFI – Internet late at night!
• No WIFI – Internet until the chores are all done
The Killnet Switch will sever the connection between the computer and the internet once initiated however, connect back to the internet as soon as you want to go online again. The KillNet Switch will not destroy the connection.
The Threats
We have always had hackers since the internet was invented
In the last two years there has been a huge increase in professional and foreign government based hacking
China, North Korea and other countries are leading the way
Hackers will steal data, cripple the computer system and are even demanding ransom to restore the data that they have corrupted
Some ransom demands have been huge – many millions of dollars for the attacked organization – and some ransoms have been paid
KillNet Switch is cybersecurity hardware that functions independently from your devices or routers. Our revolutionary discovery enabled the product to function throughout the wire – literally. Once you have the hardware, you'll be safe from every cyber threat that you can think of. KillNet Switch is 100% safe to use, and it guarantees your cyber safety 24/7.

KillNet is the first hardware device that protects all of your devices from hackers and attackers using our patented technology. It works across wires, protecting you from every cyberattack possible. 
The internet can be a dangerous place, but KillNet Switch can help you stay safe. With features like scanning for vulnerabilities, child locks, and securing your internet access, the KillNet Switch is the first hardware device for complete home network security, protecting your devices from cyberattacks at all times!

So parents can control their children's access to the Net