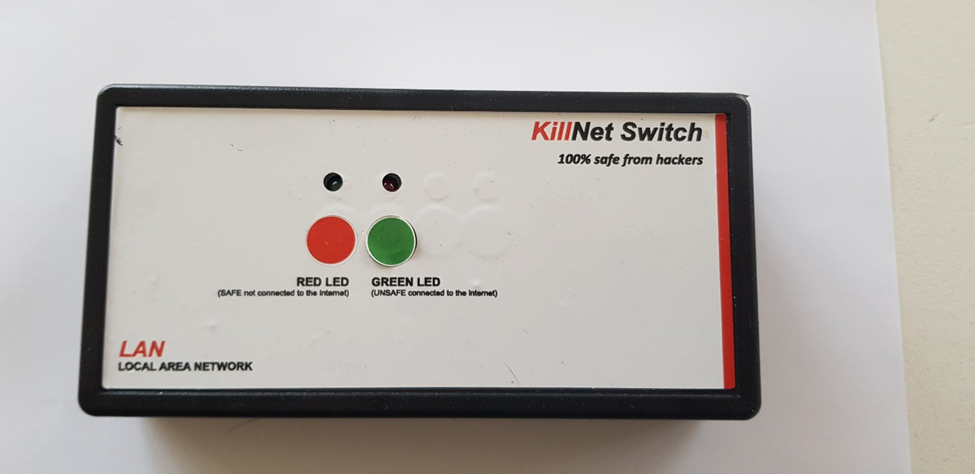 Stan Lieder and Kerry Farmer have been doing business together for many years.  Stan is the ideas man – the techo and innovator.  Kerry is the marketer, documentation and contracts expert.      Both men have long experience in the Computer Industry.  
Stan is from Christchurch, New Zealand which was destroyed by earthquake in 2011.  Almost all the CBD had to be re-built – a huge task.  Stan, through his company Kore Projects Ltd, designed Internationally renowned systems so that Construction Managers could have access to information and send in reports from the building site.  
Kerry has an international marketing consultancy called Dynamic Intelligence Ltd, with over 900 customers in 50 countries.


More about the KillNet Switch
The KILL NET SWITCH is a very simple device
The KILL NET SWITCH is about the size of a small external disk
The KILL NET SWITCH has two plugs on it. So, all internet communication is through the KILL NET SWITCH
The KILL NET SWITCH has two LEDS
red LED (= SAFE – not connected to the internet), and
green LED (= UNSAFE – connected to the internet)
The KILL NET SWITCH is very easy to install – almost anyone can install it. You just plug it in and there is no further installation, actual or automatic.
The Kill Net Switch concept is revolutionary
Every other Internet protection function is based on software on the operational computers or routers
Such software is hackable – sometimes with difficulty, but always hackable
The Kill Net Switch is hardware– it 'cuts the wire' – so it is not hackable
But an even more important breakthrough is that the Kill Net Switch is on the wire and is independent from the computer/router. This is unique and a significant breakthrough. No one else has thought of it.
This 'on the wire' solution is capable of huge future development for commercial, government and military uses
A prototype KILL NET SWITCH has been manufactured and successfully trialed