A prototype KILL NET SWITCH has been manufactured and successfully trialed
We are currently field testing 12 KILL NET SWITCHES.  We are expecting to make a few final tweaks in the design.
Then, we will order 100,000 KILL NET SWITCHES from a India factory in coming weeks.  That is $US12,900,000 worth of stock at retail prices
The India factory will deliver also manage the dropshipping
We have an established agent in  India – India Connections Inc, who are based in  – Pune  India and who will manage the India connection for us
We have contracted Cardell Media of the UK – cardellmedia.com   Cardell Media the biggest and one of the oldest Digital Media companies in the world.  They will advise us on web site design and implementation plus online advertising plus CRM and to provide marketing support on a monthly basis.   We are planning on spending at least $US500,000 on advertising.
We are contracting Finman Services as our Public Accountants  – www.finman.net.nz
The prime KILL NET SWITCH market will be online and website based.  We may consider direct sales to electronic retailers.
Our biggest initial market will be the USA, UK, Canada and Australia.  But we expect to eventually have worldwide demand for the KILL NET SWITCH.
The KILL NET SWITCH is an ideal development in our future Covid affected world
There is absolutely no competitive product to the KILL NET SWITCH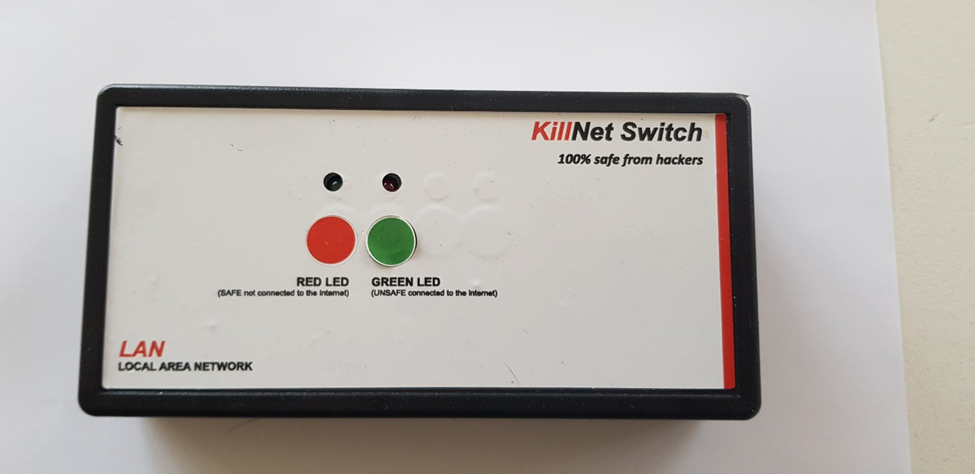 Stan Lieder and Kerry Farmer have been doing business together for many years.  Stan is the ideas man – the techo and innovator.  Kerry is the marketer, documentation and contracts expert.      Both men have long experience in the Computer Industry.  
Stan is from Christchurch, New Zealand which was destroyed by earthquake in 2011.  Almost all the CBD had to be re-built – a huge task.  Stan, through his company Kore Projects Ltd, designed Internationally renowned systems so that Construction Managers could have access to information and send in reports from the building site.  
Kerry has an international marketing consultancy called Dynamic Intelligence Ltd, with over 900 customers in 50 countries.
More about the KILL NET SWITCH
The KILL NET SWITCH is a very simple device
The KILL NET SWITCH is about the size of a small external disk
The KILL NET SWITCH has two plugs on it. So, all internet communication is through the KILL NET SWITCH

The KILL NET SWITCH has two LEDS
red LED (= SAFE – not connected to the internet), and
green LED (= UNSAFE – connected to the internet)
The KILL NET SWITCH is very easy to install – almost anyone can install it. You just plug it in and there is no further installation, actual or automatic.
The KILL NET SWITCH can operate on any operating system including Windows, Linux, MacOS etc
The KILL NET SWITCH does not change any software, or anything else, in your computer.

The KILL NET SWITCH can be turned on and off by a remote which is supplied with every KILL NET SWITCH. You can be almost anywhere in the house when using the remote

The KILL NET SWITCH remote is battery powered
The KILL NET SWITCH can also be manually turned on and off with a button on the switch

The KILL NET SWITCH plugs into the mains through a transformer which is international design and can be used in almost any country

The KILL NET SWITCH concept has patents pending in all the major countries